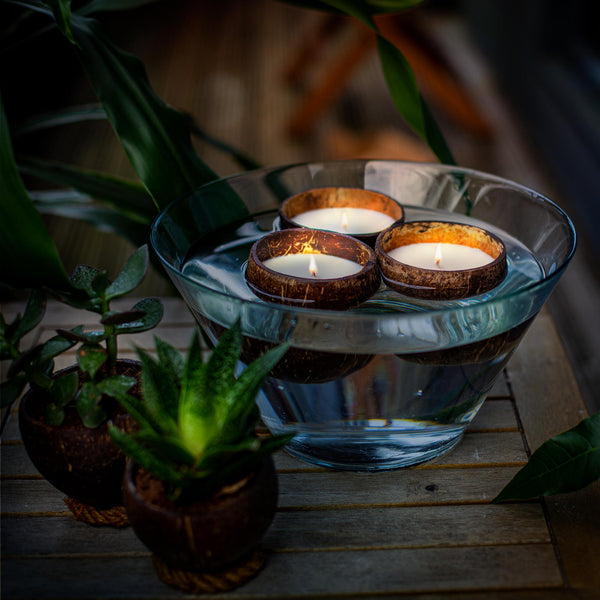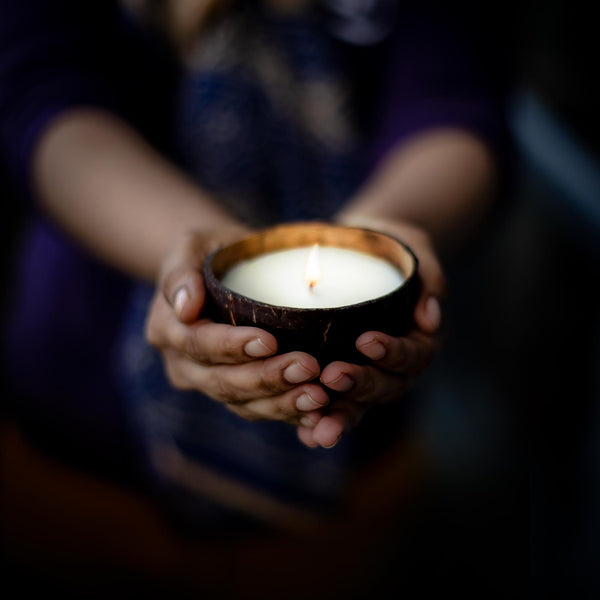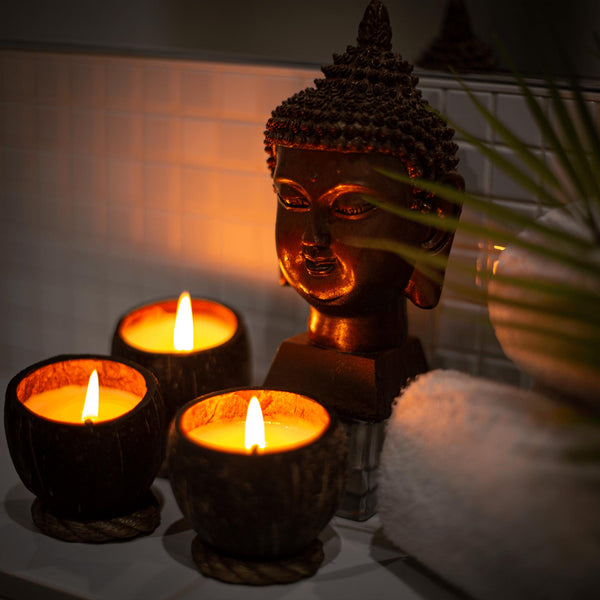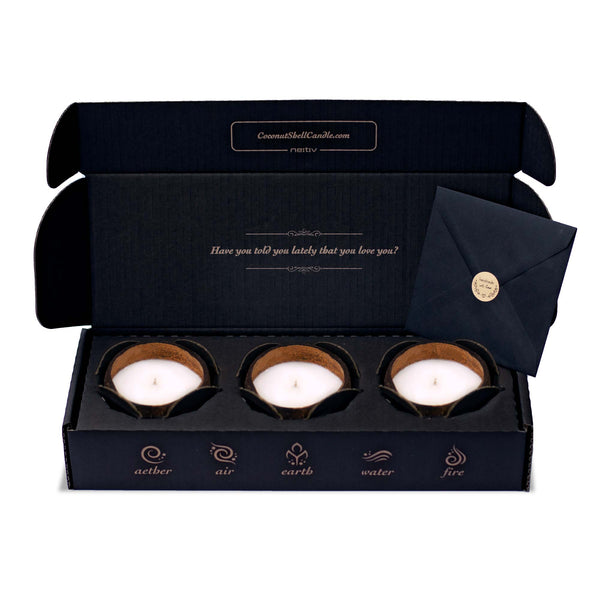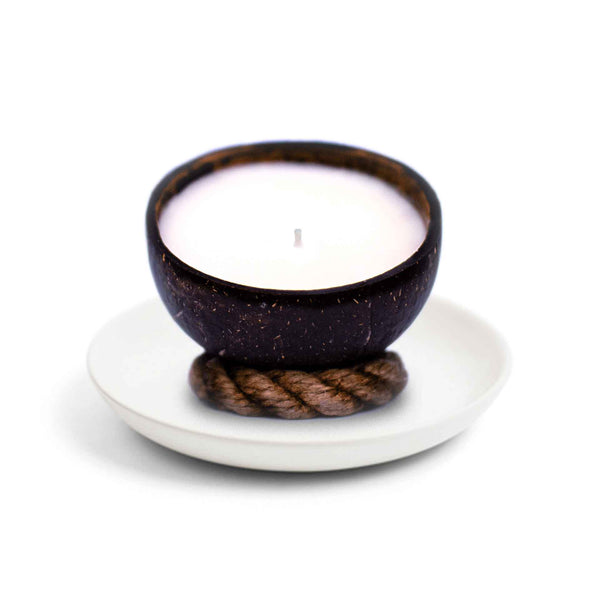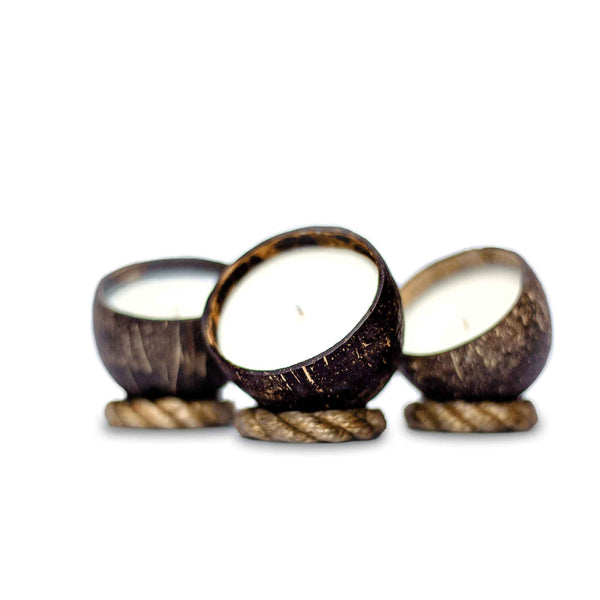 Welcome peace and tranquillity into your home through our eco-friendly and upcycled coconut shell candles that are handcrafted with love!
We hand poured each candle into the coconut shell to create a unique candle evoking the laid-back island vibes we all love. Our coconut shell candles are cute and stylish; created from reclaimed and upcycled coconut shells that make the perfect earthy, eco-friendly home for candles. These candles are handmade in the UK using a coconut-soy-rapeseed wax blend with a subtle and natural scent of coconut aroma, and lots of love! 
*We are offering a Coconut Shell Candle in all our beer packs. To view our collections, click here
HIGHLIGHTS
Coconut shell candle with coconut coir stand base
Tropical aroma: Mildly scented with a hint of coconut aroma - coconut milk, toasted coconut, coconut lime and coconut vanilla. You don't have the option to choose the aroma, so let us surprise you!
Burning hours: 18-25hrs
Wax: Coconut-soy wax blend 
Wick: Cotton wick
Dimension: 5cm-10cm (diameter) and 6cm-7.5cm (height)
Character: Each one is unique, which means colour, pattern, finish, height and capacity may slightly vary
Special features: Can be used as a floating candle and perfect for aromatherapy, outdoor parties or adding a touch of style to your home – a lovely gift for yourself and people around you.
Handmade: Candle hand poured in Wiltshire, England. The upcycled coconut shells are reclaimed and handcrafted in Kinathukadavu village, South India. The coir ring is made from coconut fibre, handwoven in Phuoc Long village of South East region, Vietnam.
Benefits
Coconut shell candles can play an integral part in a romantic setting or simply make a natural, stylish addition to your home.
Candles are well known for their soothing and healing properties, creating a wonderfully peaceful ambience and reducing anxiety.
Candlelight provides many benefits for our body and mind. The sheer act of lighting a candle, its lovely flicker and the glow, helps to ease and soothe the mind.
LIGHTING YOUR COCONUT SHELL CANDLE
Please follow these instructions carefully when using your coconut shell candle:
Remove packaging and candle cover before burning the candle.
Place the coconut shell candle and its coir stand base together on a non-flammable plate, such as a slate coaster or ceramic saucer. Do not place your candle directly onto or near flammable or heat sensitive surfaces such as glass or wooden furniture as the coconut shells get hot and may cause damage.
Always trim the wick ¼ inch before lighting to maintain a small flame and clean burning. If the flame gets too large, extinguish, allow candle to cool and trim wick.
To prevent tunnelling, ensure the melt pool reaches the edge of the container before extinguishing, particularly during the first burn. Subsequent burns should be no longer than 3 hours.
Do not burn the candle to the very bottom - stop burning the candle when ½ inch of wax remains.
Never leave a burning candle unattended as coconut shells are not naturally fireproof.
FIRE SAFETY WARNING
Use the coir stand base for the stability of the coconut shell candle.
Place it on a flat and heat-resistant surface.
Never leave a burning candle unattended.
Keep away from objects that can catch fire.
Keep candles out of the reach of children and pets.
Do not burn candles for more than 3 hours at a time.
Never pick up or move a burning candle as it will be hot when lit.
Always trim the wick before burning. Long or crooked wicks can cause uneven burning, dripping, or flaring.
Do not burn the candle to the very bottom.
Light your candle in a well-ventilated area - avoid placing near draughts and wind.
Extinguish the flame fully before leaving the room.
REUSING AND REPURPOSING THE COCONUT SHELL
After the candle has burned out, the coconut shell can be re-used and repurposed as a plant pot (for small plant), decorative pot or bird feeder.
You may lightly polish the coconut shell with coconut oil to bring the shine back.
Please reuse our packaging and products as this will help to reduce carbon footprint.
Disclaimer
Candle burning time of 18-25 hours is based on comprehensive testing at 3 hour burn intervals. They are to be taken as a general guide only and will vary based on how you use the candles and the unique variations in their size.
😍 Here's What Our Customers Are Saying About Us 😍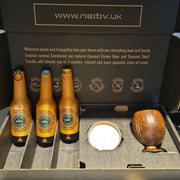 10/10 WOULD BUY AGAIN! Glenn bought this for us to share and we loved it. Coconut based beer targeted at women with the aim of reducing the bloat that comes from drinking. You get 3 types of beer with different strengths, all smooth and exceptionally tasty. Also you get a coconut candle and cup to boot.
Jennifer Gilroy
HIGHLY RECOMMENDED! Not only does the sample pack of three beers come beautifully packaged, along with the coconut shell cup and a coconut candle, the beers taste AMAZING!
Sascia Rowlands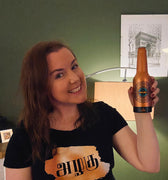 The fact the coconut beer is natural with health benefits is an added benefit and allows you to enjoy guilt free! Both due to the ethical nature of the beer and nutritional value. Not only does it look and taste amazing, it infers much more than that. One of my new favourite drinks for sure.
Kirsty Gilbert
STUNNING BEERS! I ordered a box direct from Neitiv and I was blown away. Inside there was a lovely candle (which smells amazing btw!) and the beers were to die for. Light, refreshing, and yet full of flavour. Certainly one you NEED to try!
Rob Spence
MEDICATION FOR MAMAS! A delicious taste and a joy to drink. Helped to ease the daily stress out of my soul. Highly recommend to all mamas that love beer and want to bliss out for a while and pretend they are carefree and relaxing on a solitary island. Indulge!
Claire D
Incredible tasting beer and even better experience! Right from receiving the taster package right through to drinking the beer, this was an experience like never before. As a woman, I don't drink beer at all but I love gin, so with the use of Coconut Flower Drops, this drink is the perfect mix for me.
Chloe Grantham
I'm not a huge fan of coconut and I thought I may not enjoy the beer, but I did and often have a Neitiv with my dinner or after work!!
Jacob Cox
Beer tastes so fresh and clean, no bitter taste like other beers. …the candle smells divine. Super fast delivery and well packaged.
Samantha Mitchell