😍 Here's What Our Customers Are Saying About Us 😍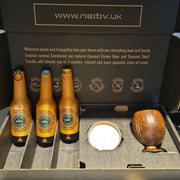 10/10 WOULD BUY AGAIN! Glenn bought this for us to share and we loved it. Coconut based beer targeted at women with the aim of reducing the bloat that comes from drinking. You get 3 types of beer with different strengths, all smooth and exceptionally tasty. Also you get a coconut candle and cup to boot.
Jennifer Gilroy
HIGHLY RECOMMENDED! Not only does the sample pack of three beers come beautifully packaged, along with the coconut shell cup and a coconut candle, the beers taste AMAZING!
Sascia Rowlands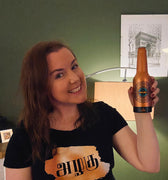 The fact the coconut beer is natural with health benefits is an added benefit and allows you to enjoy guilt free! Both due to the ethical nature of the beer and nutritional value. Not only does it look and taste amazing, it infers much more than that. One of my new favourite drinks for sure.
Kirsty Gilbert
STUNNING BEERS! I ordered a box direct from Neitiv and I was blown away. Inside there was a lovely candle (which smells amazing btw!) and the beers were to die for. Light, refreshing, and yet full of flavour. Certainly one you NEED to try!
Rob Spence
MEDICATION FOR MAMAS! A delicious taste and a joy to drink. Helped to ease the daily stress out of my soul. Highly recommend to all mamas that love beer and want to bliss out for a while and pretend they are carefree and relaxing on a solitary island. Indulge!
Claire D
Incredible tasting beer and even better experience! Right from receiving the taster package right through to drinking the beer, this was an experience like never before. As a woman, I don't drink beer at all but I love gin, so with the use of Coconut Flower Drops, this drink is the perfect mix for me.
Chloe Grantham
I'm not a huge fan of coconut and I thought I may not enjoy the beer, but I did and often have a Neitiv with my dinner or after work!!
Jacob Cox
Beer tastes so fresh and clean, no bitter taste like other beers. …the candle smells divine. Super fast delivery and well packaged.
Samantha Mitchell