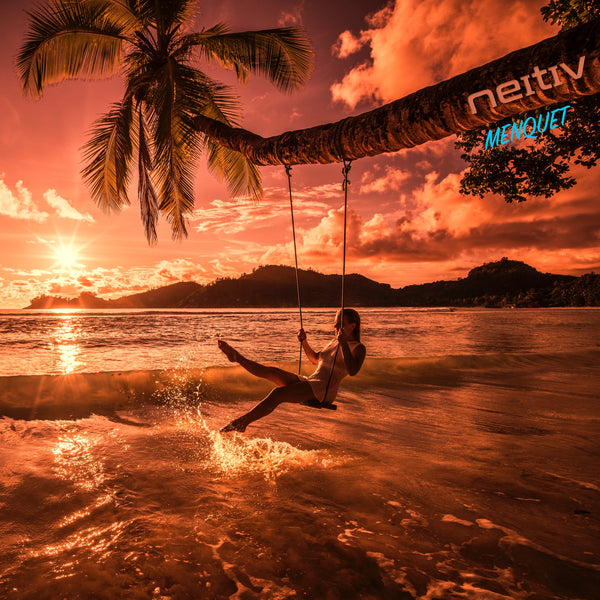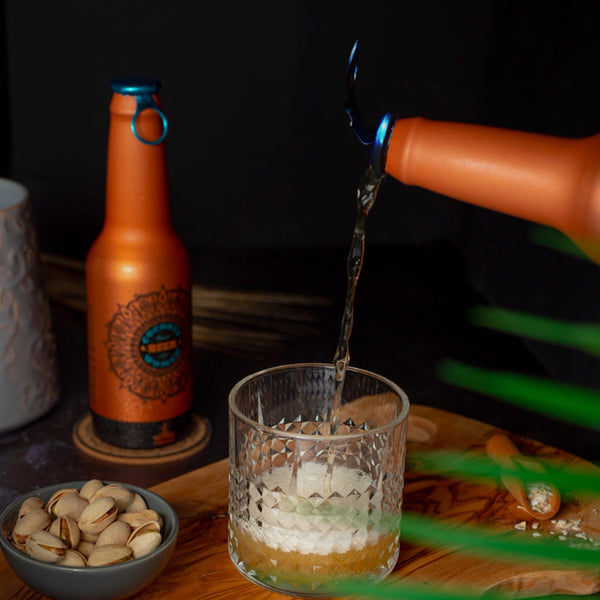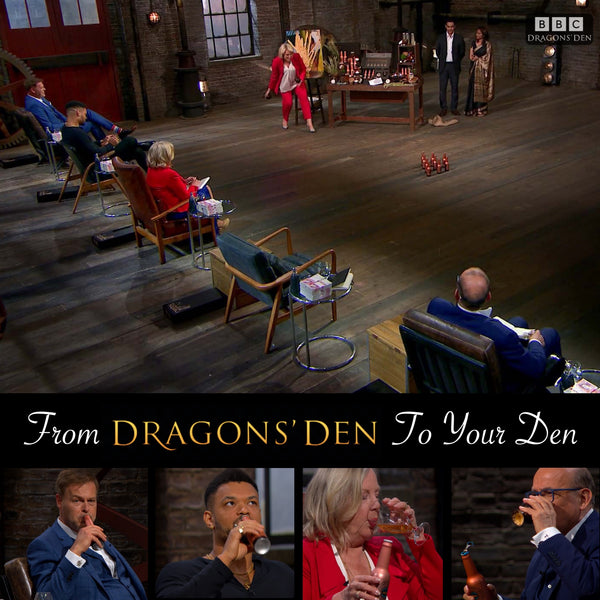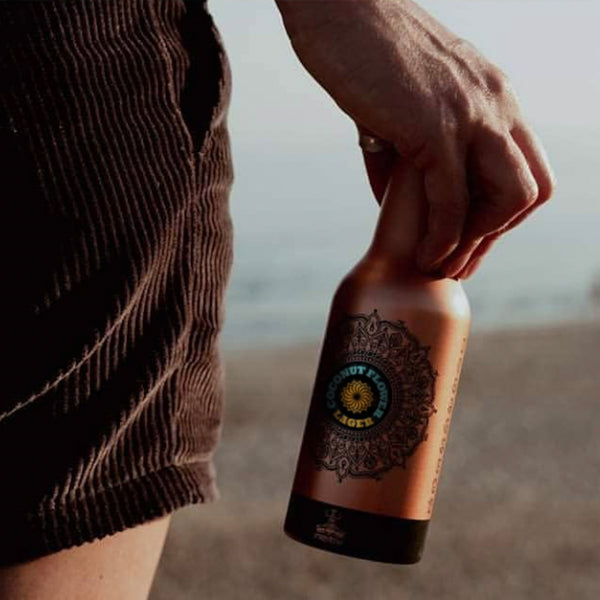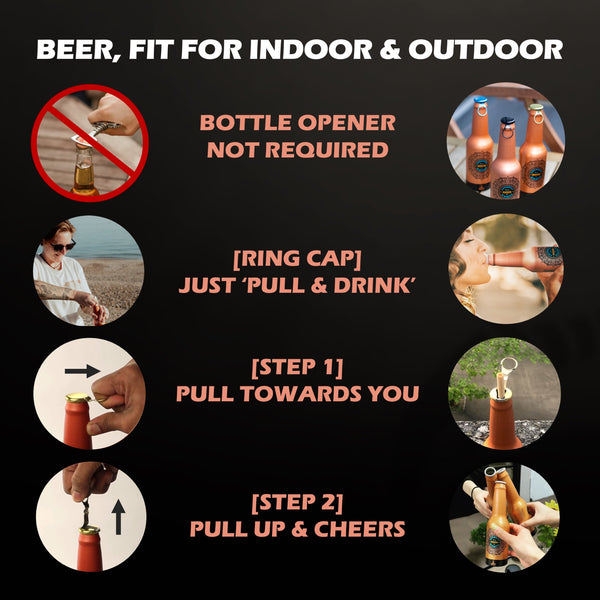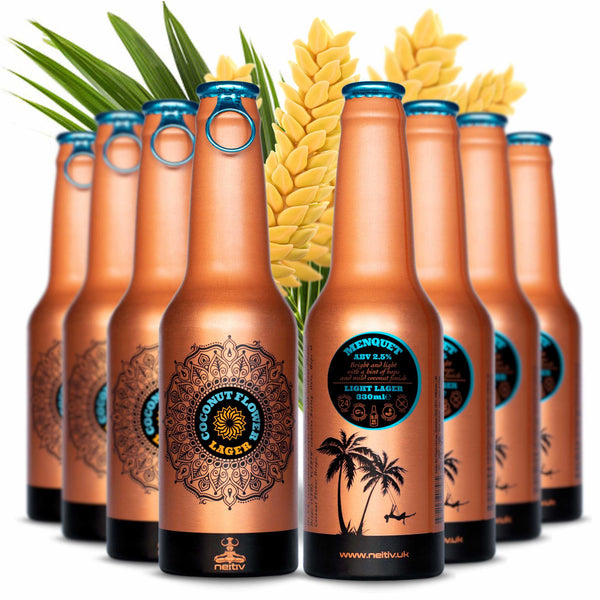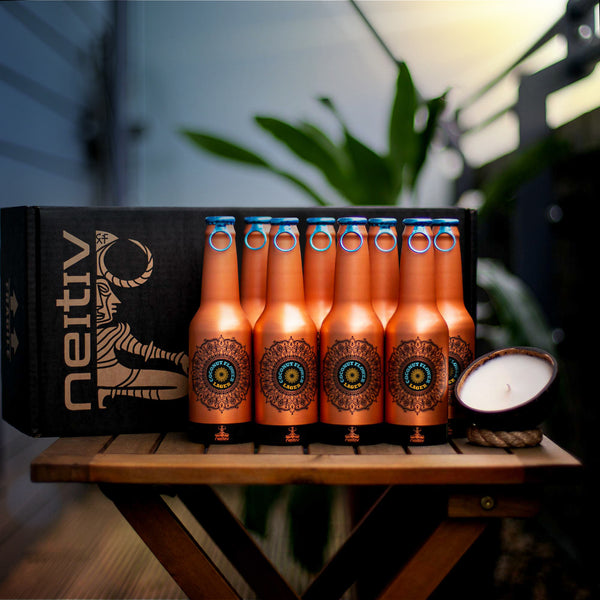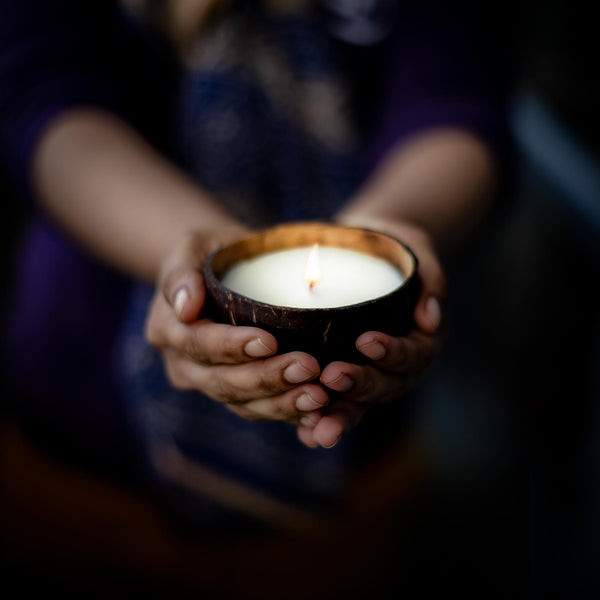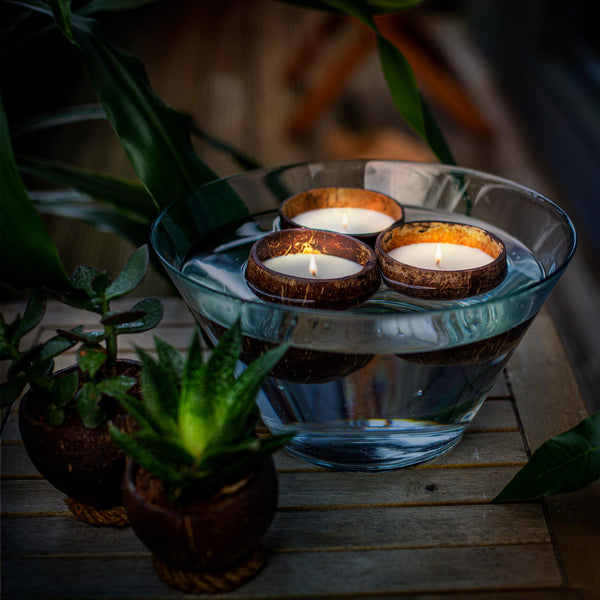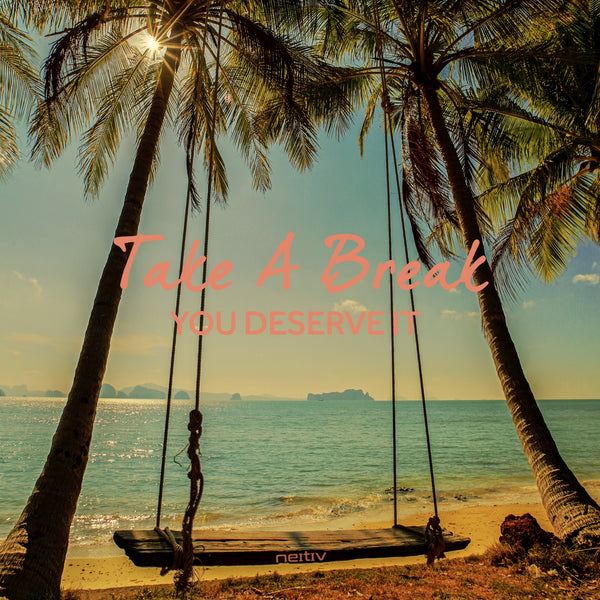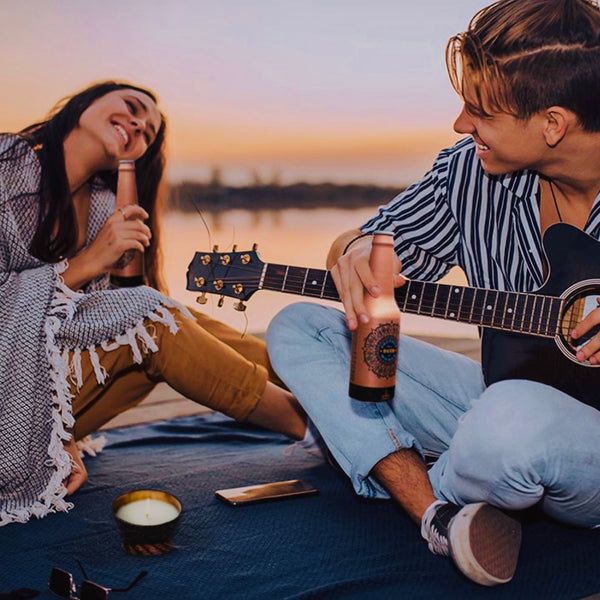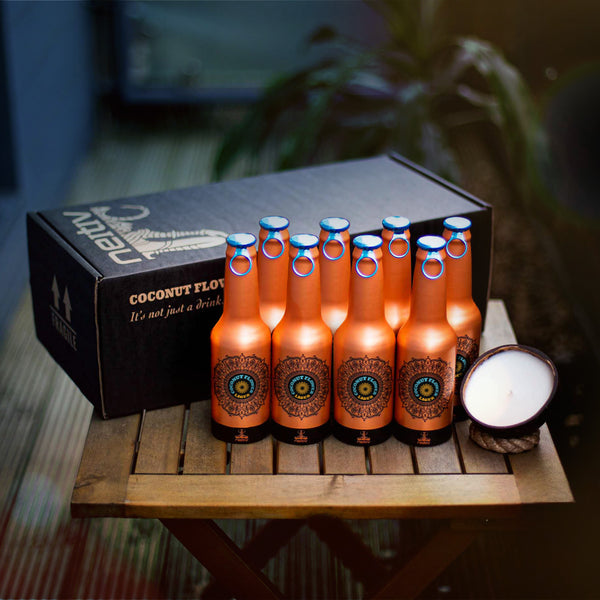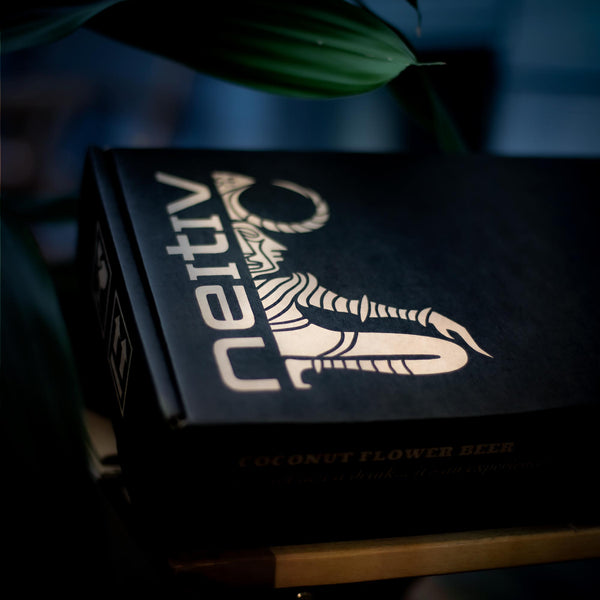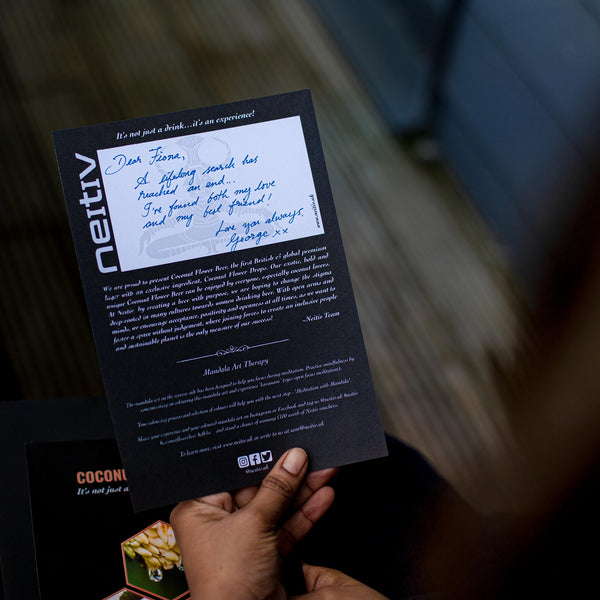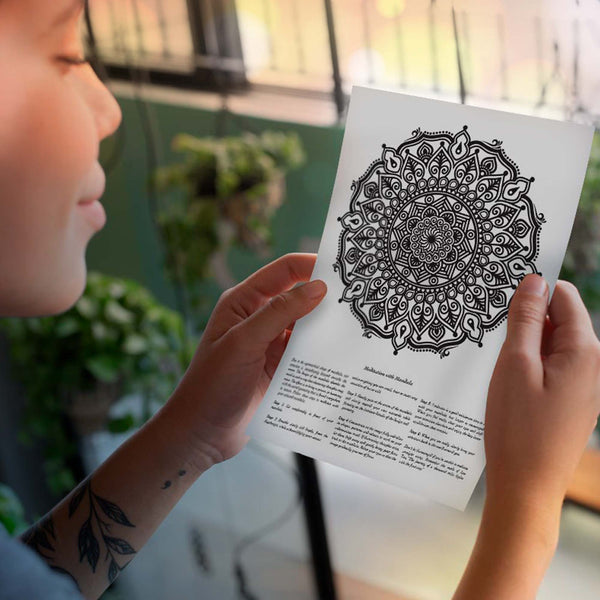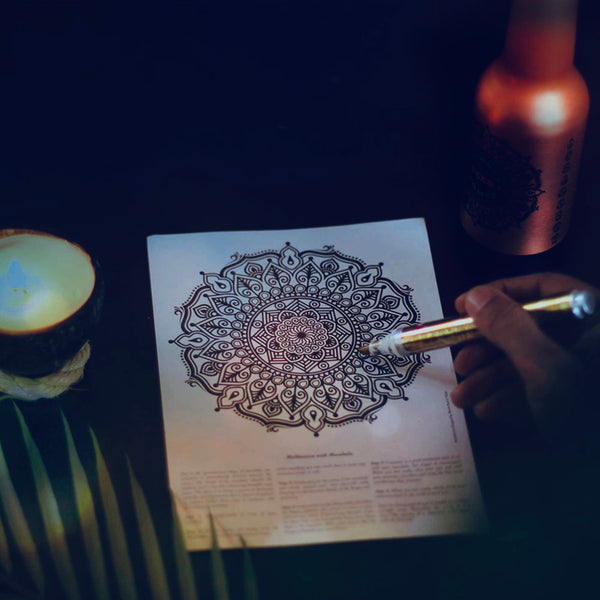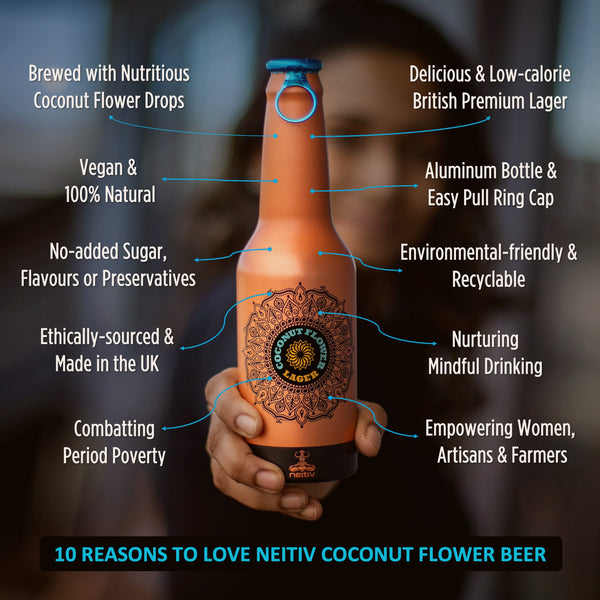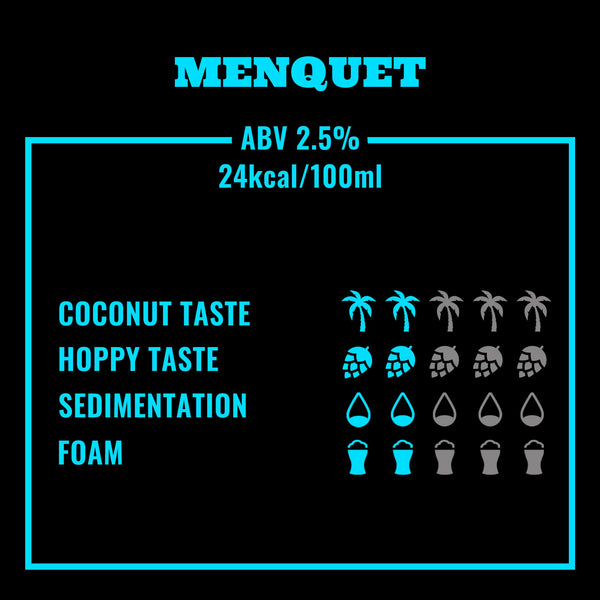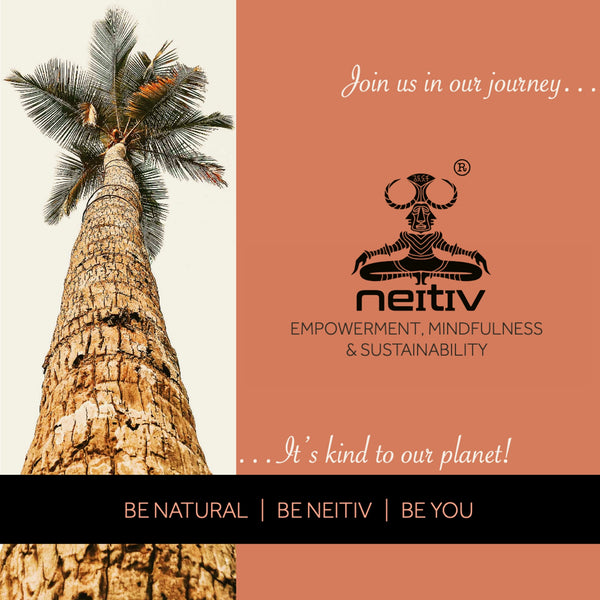 Menquet-Freedom  is a refreshing light lager to fit your healthy lifestyle. It is the lowest calorie beer in our collection with only 24kcal per 100ml.
Menquet pack contains:
8 x 330ml, Menquet-Freedom Coconut Flower Beer | Light Lager | ABV 2.5%  

Mandala Mindfulness Colouring Sheet with meditation guide | Free

Personalised Message

Optional to purchase: 1 x Coconut Shell Candle | Pleasing Coconut Scent | Burning Time: 18-25 hours | The mild coconut aroma is pleasing, subtle and creamy, offering a relaxing and soothing scent that fills your home with tranquillity.
Imagine a beach with golden sand, turquoise waves, and Coconut Flower Beer... in other words, a few moments of relaxation! Let us to transport you to an exotic island and make you reminisce about your last trip to the beach!
"Enjoy a beer the Neitiv way… for a deliciously relaxing experience." ~ The Write Taste
TREAT YOURSELF & YOUR LOVED ONES WITH NEITIV 

💕 The Gift of LOVE! Nothing is more important than celebrating LOVE. Let's celebrate love and make HAPPY memories together.
🙌 Celebrate YOU! Sometimes you forget you're AWESOME, so this is your reminder!
👏🏼 Celebrate your ACCOMPLISHMENTS and SUCCESS! Your special moments are worth celebrating. Celebrate all the small wins and milestones in the journey.
🤩 Tell WOMEN in your life how AMAZING they are! Let's celebrate your amazing wife, partner, mother, daughter, sister, girlfriends and female entrepreneurs.
🥂Toasts to WOMEN! We know women faces many challenges, obstacles and social stigmas worldwide. So, don't forget to celebrate for being yourself and celebrate women in your life with a drink that supports GOOD CAUSES. 
All our packs are giftable for a loved one or treat yourself to enjoy any occasion. If you have trouble finding the heartfelt words for a personalised message, share your thoughts and let Neitiv help you. 
HIGHLIGHTS
Delicious and refreshing to drink - No bitter taste
Double fermented fine-tasting premium lager
Unique ingredient, Coconut Flower Drops
Brewed and bottled in the UK
Low calorie, low alcohol, vegan, and gluten-free
No added sugar, sweetener, flavours, or preservatives
100% natural, eco-friendly and ethically-produced
Minimal foam and less bloating*
Unfiltered (Sediments of Coconut Flower Drops)
Copper-toned aluminium bottle with ring cap
Divine smelling Coconut Shell Candle
Complimentary mandala colouring card*
Product with purpose
To learn about Coconut Flower Beer and the unique experience, click here
MENQUET-FREEDOM, LIGHT LAGER | ABV 2.5%
Menquet is named after the ancient Egyptian goddess, who was responsible for brewing.
Taste: Bright and light with a hint of hops and mild coconut finish
Calories: 24kcal/100ml
UK Unit: 0.7
Colour:

 

Pale

-amber

Bottle Design: Copper-toned matt finish aluminium bottle with turquoise blue ring cap
Highlights: Low Calorie | Low Alcohol | Vegan | Gluten-free | 

Unfiltered 
COCONUT CANDLE & MANDALA CARD
Coconut Shell Candle with 

coir stand base*(optional): 

The natural, mildly scented, and upcycled coconut candle, creates a soothing and relaxing ambience. 

It c

an be used as a floating candle and perfect for aromatherapy. The candle is handmade in the UK using a coconut wax blend and eco-friendly cotton-wick. 

The candle burning time is 18-25 hours. 

To learn more about our coconut shell candle,

 

click here
Mandala Card*: The complimentary mandala colouring sheet is for you to colour in and meditate with. Share your creativity, the coloured mandala, on Instagram or Facebook and stand a chance of winning £100 worth of vouchers. Learn More
PRODUCT WITH PURPOSE
By purchasing Neitiv products; 
You are contributing to the Neitiv Red🔴Dot project and helping us to work towards our goal of eliminating period poverty in the UK and many other countries. We believe all women should have access to period protection during their menstruation; it should be a basic human right. Learn More
You are empowering women farmers👩🏽‍🌾 and artisans in marginalised communities through development programmes and providing them with job opportunities, ethical pay and a work-life balance.
By drinking Neitiv Coconut Flower Beer For Women, you are smashing gender stereotypes and empowering all people to enjoy beer without negative consequences. Coconut Flower Beer For Women can be enjoyed by people of all genders. It acts as a reminder that beer is for everyone! It is labelled with a slogan 'Coconut Flower Beer For Women' to celebrate women and make women feel more invited and welcome. Ultimately, to raise awareness and support women's causes such as eliminating period poverty. Tell Me More 🧐
"A great new product with a fantastic message behind it… Neitiv breaking boundaries with UK's first Coconut Flower Beer… 'Being judged by others' is one of the main barriers to women drinking beer in the UK. The launch of a Coconut Flower beer could result in a huge shake-up to the categories norm" ~ FMCG, The Food And Drink Industry Magazine.
BREWING PROCESS AND INGREDIENTS
"The beer is crafted with a premium British lager that has been paired with coconut flower drops, which adds in additional nutrients, protein and amino acids." ~ Trend Hunter
Coconut Flower Beer is best-tasting premium lager that is delicious, easy and refreshing to drink. Lager is a type of beer, distinguished from other beers by the yeast used to ferment it and maturing it at a low temperature. Coconut Flower Beer is brewed using lager yeast and carefully crafted in two stages of fermentation, which means it takes around eight weeks to produce. Primary fermentation uses conventional lager ingredients: malted barley, oats, hops and water. Secondary fermentation sees the addition of the magical Coconut Flower Drops, with their beneficial live cultures which make the drink so fascinating! The exotic, bold and unique Coconut Flower Beer that is brewed and bottled in the UK, is in effect a work of art - from recipe, to brewing, to branding, all the way to customer experience, it is not just a drink, it is an experience!
Allergen ingredients: 

Barley and Oats 

Mother ingredient: 

Coconut Flower Drops 
To learn about Coconut Flower Drops, the drops of nature click here
The sediments and floating in Coconut Flower Beer is natural, as it results from the secondary fermentation with Coconut Flower Drops. Reducing the sediments would require a harsh filtration process which could affect the quality of the beer. We decided to retain the sediments, to cherish the drink's purity and freshness. Enjoying Coconut Flower Beer with sediments is part of the experience, as the live culture from the mother ingredient enhances the taste. Our research shows that while in the past many preferred crystal-clear beverages, this perception is changing due to a new-found appreciation of raw, authentic and unrefined plant-based natural beverages. 
GUIDE TO OPENING THE RING CAP
Opening the ring cap is easy with this guide. Learn More
Tips for recycling♻️: At the recycling facility, waste enters an automated system of machines that separates the different materials. Typically, bottle caps are too small to be identified within the sorting machines and so they will end up in landfill. At Neitiv, our ring cap offers a solution to this problem. By leaving the ring cap on the aluminium bottle it reduces the chance of bottle caps getting lost during the sorting process at the recycling plant. Isn't it brilliant?
We need your feedback, so tell us what you think of the ring cap by writing to us.
OUR ETHOS
✊Empowerment | 🧘Mindfulness | 🌎Sustainability
"I believe empowerment, mindfulness and sustainability are interconnected to create an equal, peaceful and prosperous world." ~ Vaani VetriKo, co-founder of Neitiv 
"Sustainability is key to Neitiv, it aims to be the most sustainable option on the market through its fully recyclable packaging and harvesting techniques." ~ The British Guild of Beer Writers
Our ethos demonstrates who we are and what we believe.

 

Tell Me More
Our mission is to reconnect our modern society to its natural roots by reintroducing eco-friendly and wholesome indigenous products from around the world. We are

 

revolutionising

 

ancient beverages and products in the hope of inspiring a more ethical and mindful way of life - one which nurtures appreciation for our earth and nature. We want to bring a positive ecosystem to our planet, helping to preserve our planet for the next generation and being thankful to Mother Nature.
Our pricing is influenced by many factors, but particularly by the high production cost of our mother ingredient Coconut Flower Drops, the double fermentation method, our commitment to using sustainable packaging, and our pledge to support our farmers and artisans by paying ethical wages above the income standards.
Why are Coconut Flower Drops costly? Because the nectar has to be tapped at the top of the coconut tree before sunrise, which is both challenging and risky – there are few who are skilled enough and their insurance is understandably high. The drops have to be collected and stored in specially designed chilled containers, transported to a custom-built plant, and maintained in end-to-end cold chain logistics.
DISCLAIMER
Sedimentation is normal: Our beer is completely natural and does not go through harsh filtration process, which means the natural goodness is maintained in the form of sedimentation.
Less bloating*: Our focus group found unanimously that Coconut Flower Beer does not cause an uncomfortable, bloated feeling. We'd love to hear if you agree, so please share your experience by

 

writing to us.
Taste: The taste of Coconut Flower Beer may slightly differ from batch to batch. This is because of our mother ingredient, Coconut Flower Drops.

 

Coconut Flower Drops are 100% natural - created by nature, their taste subtly changes according to seasons, region, soil and the type of coconut trees.
Gluten-free: Menquet, Light Lager (ABV2.5%) is Gluten-free with less than 3ppm gluten (the requirement is less than 20ppm to be classified as 'gluten-free'). Since we are reducing the gluten-level through our process, we conduct test for each of our production to identify the gluten-level.
Coconut Shell Candle: Each one is unique, which means colour, pattern, finish, height and capacity may slightly differ as coconut shells are a product of nature.
Candle burning time: 18-25 hours - This is based on comprehensive testing at 3 hour burn intervals. They are to be taken as a general guide only and will vary based on how you use the candles and the unique variations in their size.
DRINK MINDFULLY AND ENJOY RESPONSIBLY
Our beer shouldn't be a thing you drink just to get drunk. So, please drink within the recommended limits. If you are feeling depressed or suffering from anxiety, alcohol is not the solution. To seek help from alcohol support services, click here.


😍 Here's What Our Customers Are Saying About Us 😍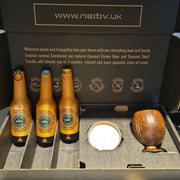 10/10 WOULD BUY AGAIN! Glenn bought this for us to share and we loved it. Coconut based beer targeted at women with the aim of reducing the bloat that comes from drinking. You get 3 types of beer with different strengths, all smooth and exceptionally tasty. Also you get a coconut candle and cup to boot.
Jennifer Gilroy
HIGHLY RECOMMENDED! Not only does the sample pack of three beers come beautifully packaged, along with the coconut shell cup and a coconut candle, the beers taste AMAZING!
Sascia Rowlands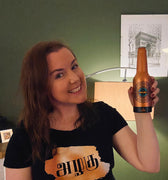 The fact the coconut beer is natural with health benefits is an added benefit and allows you to enjoy guilt free! Both due to the ethical nature of the beer and nutritional value. Not only does it look and taste amazing, it infers much more than that. One of my new favourite drinks for sure.
Kirsty Gilbert
STUNNING BEERS! I ordered a box direct from Neitiv and I was blown away. Inside there was a lovely candle (which smells amazing btw!) and the beers were to die for. Light, refreshing, and yet full of flavour. Certainly one you NEED to try!
Rob Spence
MEDICATION FOR MAMAS! A delicious taste and a joy to drink. Helped to ease the daily stress out of my soul. Highly recommend to all mamas that love beer and want to bliss out for a while and pretend they are carefree and relaxing on a solitary island. Indulge!
Claire D
Incredible tasting beer and even better experience! Right from receiving the taster package right through to drinking the beer, this was an experience like never before. As a woman, I don't drink beer at all but I love gin, so with the use of Coconut Flower Drops, this drink is the perfect mix for me.
Chloe Grantham
I'm not a huge fan of coconut and I thought I may not enjoy the beer, but I did and often have a Neitiv with my dinner or after work!!
Jacob Cox
Beer tastes so fresh and clean, no bitter taste like other beers. …the candle smells divine. Super fast delivery and well packaged.
Samantha Mitchell