Brewing Equality
As Vaani and Keeran were in the middle of their research and development phase for Coconut Flower Drops and Coconut Flower Wine, Vaani had an idea: "Let's create Coconut Flower Beer." They both enrolled in beer brewing lessons and built a network of brewers, developing valuable friendships along the way. With the help of their head brewer, Paul, they collaborated on the R&D for Coconut Flower Beer. After seven months of hard work, Vaani proposed a bold move to Keeran: "Let's introduce our beer as Coconut Flower Beer For Women in the initial stage and encourage both men and women to try it."
The idea was to challenge the perception that beer is a male drink and to open up the beverage to a wider audience. "Almost all of our male relatives and friends drink beer or alcohol, whereas most of our female relatives and friends don't, and many haven't even tasted it due to the perception that it is immoral for them to drink it", Vaani explained. She also shared a personal story of how, at the age of 19, she was slapped by her aunt for merely trying a beer, even though she didn't like the taste of it. "I want to change this stigma because the perception still remains. Let's cultivate change together!"
Their conversation continued for hours, during which they exchanged various experiences and views. They agreed on the label name with a slogan 'Coconut Flower Beer For Women' available as a gift set and 'Coconut Flower Lager' as a general name. Vaani and Keeran are the founders of Neitiv, a company on a mission to challenge conventional thinking and inspire positive change. To learn about Neitiv and its ethos, click here.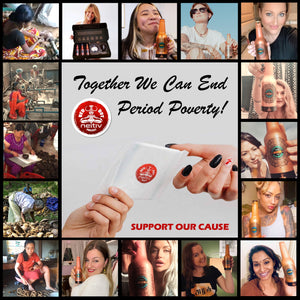 DRINK FOR GOOD
🔴 1 in 10 British girls/women can't afford to buy menstrual products, while 1 in 7 have struggled to afford them*. We launched our ambitious project 'Red Dot' to fight period poverty by providing free period products via click of a button. By purchasing Neitiv products, you are contributing to the Red Dot project and helping us to work towards our goal of eliminating period poverty in the UK and many other countries. We believe all women should have access to period protection during their menstration; it should be a basic human right. *statistics from Plan International UK | Learn More
🍺 17% of British women fear they will be judged for drinking beer* and in many cultures around the world, beer is still considered an immoral drink for women. By purchasing Neitiv beer, you are smashing gender stereotypes and empowering all people to enjoy beer without negative consequences. *statistics from The Gender Pint Gap Report
👩🏽‍🌾 Rural women labourers do not wield equal power with men, and as a result, they earn less income and experience higher food insecurity. By purchasing Neitiv products, you are empowering women farmers and artisans in marginalised communities through development programmes and providing them with job opportunities, ethical pay and a work-life balance.
Are you looking for a way to make a positive impact? Choose Neitiv and Drink For Good! Our delicious, sustainably-brewed beer not only tastes great, but also supports an ethical small business based in Wiltshire, England. At Neitiv, we prioritise Empowerment, Mindfulness, and Sustainability - values that are not typically associated with the beer industry. Join us in redefining the industry and moving towards a more inclusive, peaceful, and sustainable world. So choose Neitiv, and enjoy great beer while making a positive impact!
The gift of love
"10/10 WOULD BUY AGAIN! GLENN BOUGHT THIS FOR US TO SHARE AND WE LOVED IT." ~ JENNIFER GILROY
💕 There's nothing more beautiful than celebrating the love between two people. Whether it's a romantic evening or a fun day out, let's create unforgettable memories together!
✨ Tell the women in your life how AMAZING they are! Let's celebrate your amazing wife, partner, mother, daughter, sister, girlfriends, and female entrepreneurs.
🙌 Sometimes you forget you're AWESOME, so this is your reminder! And your special moments are worth celebrating. Let's celebrate YOU!
🎁 Treat yourself and your loved ones to the refreshing taste of Neitiv beer, while doing good for the environment and local communities. Drink For Good!
product with purpose
At Neitiv, we believe that everyone should be able to enjoy our Coconut Flower Beer, regardless of gender. Our Coconut Flower Beer For Women is not intended to exclude anyone. The purpose of our slogan is to raise awareness, promote solidarity, and challenge the deeply ingrained stigma in many cultures towards women drinking beer and alcohol. As global citizens, we feel an obligation to speak out against any form of discrimination and injustice, including the mistreatment of women who enjoy beer or alcohol.
Our Coconut Flower Beer is designed to create a welcoming environment for women who may feel intimidated or excluded from beer culture. We believe that everyone should be able to enjoy the drinks they like without fear of judgment or discrimination. That's why we created a beer that is designated to make women feel more invited and welcome.
In addition to our goal of eradicating the negative stigma towards women drinking beer and alcohol worldwide, we also support women's empowerment projects, such as fighting period poverty and stigma and supporting women from marginalised communities. We believe that everyone should have equal opportunities to live their lives to the fullest, regardless of gender or any other factor. Ultimately, by promoting gender equality and equity, we aim to contribute to a more just and equal world for all.
THE CORRELATION BETWEEN BEER HISTORY AND WOMEN
Nearly 7,000 years ago, beer brewing began its development in Mesopotamia. Women innovatively integrated grains of cereal with herbs and water, cooked them, brew them and invented beer. By the start of the late 18th Century and the Industrial Revolution, new methods of making beer had evolved and women were increasingly barred from participating in alcohol production. So women's contribution gradually started to decline and was forgotten. Almost for the last 200 years, western societies have viewed beer brewing as a male-dominated field.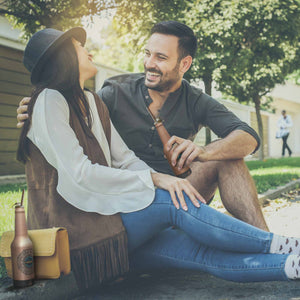 A STUDY INTO BRITISH FEMALE ATTITUDES AND BEHAVIOURS TOWARDS BEER
There are more than 3,000 breweries in the UK and the beer industry is booming. Nevertheless, the UK has one of the lowest percentage of women beer drinkers compared to other European countries.
According to the recent study and Yougov poll, only 17% of British women drink beer compared to 53% of men. Almost half of young women (48%) do not drink beer or have not tasted beer. It discovered that male-oriented advertising and 'being judged by others' are the two main barriers. Besides this, the misconception of the taste and calorie count also deter women from trying beer. The study also discovered that female attitudes, perceptions and beliefs about beer have not moved on from a similar study conducted a decade earlier, despite the beer industry trying to evolve and be more inclusive. Sadly, most women still hold a negative opinion about beer and perceive it to be a man's drink!
*Statistics from 'The Gender Pint Gap' report, study led by a British group Dea Latis, partnering with YouGov in 2018.
TO TELL A WOMAN EVERYTHING SHE CANNOT DO IS TO TELL HER WHAT SHE CAN!
THE CHIEF MINISTER OF GOA SAID "I HAVE BEGUN TO FEAR NOW, BECAUSE EVEN THE GIRLS HAVE STARTED DRINKING BEER"
Goa, a state in western India, is one of the most popular destinations, visited by large numbers of tourists, seeking its white sandy beaches and nightlife. Sadly, the Goa Chief Minister Manohar Parrikar, in 2018, addressing a gathering at the Youth Parliament said: "I have begun to fear now, because even the girls have started drinking beer. The tolerance limit is being crossed."
Indian women generally hide their drinking habits from their family or relatives and only open up in front of a handful of people who they are very comfortable with. The offensive remark made by the Goa Chief Minister stoked up a controversy and some women in India boldly took to social media, posting pictures of themselves posing with beer bottles and mugs under the hashtag #GirlsWhoDrinkBeer in response to the Minister.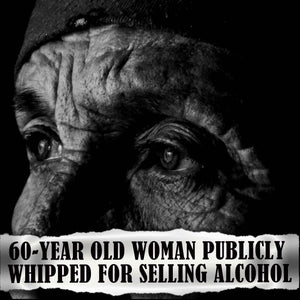 A 60 YEAR-OLD WOMAN IN ACEH WAS PUBLICLY WHIPPED NEARLY 30 TIMES FOR SELLING ALCOHOL
When we talk about Indonesia, it reminds us of Bali. Yet in the same nation, where holidaymakers enjoy surfing, beers and beautiful beach, a 60-year-old Christian woman was convicted of selling alcohol, whipped nearly 30 times with a rattan cane, in front of a crowd of hundreds in Banda Aceh, a conservative Indonesian province in 2016. While many onlookers found the punishment hard to watch, some shouted insults at the victim, and recorded the heart-breaking incident and shared it online. This has sparked plenty of debate on Facebook.
THE FIRST MALAYSIAN WOMAN SENTENCED FOR 6 STROKES OF CANING FOR DRINKING BEER
Malaysia is well known for its diversity of races, religions, and cultures, where non-Muslims are free to drink alcohol. To our surprise, in 2009, Kartika Sari Dewi Shukarno, a 33-year-old Muslim model was sentenced to six strokes of the cane and a fine after she was caught drinking beer in a hotel night club in eastern Pahang state. She defiantly asked for the punishment, usually carried out in a closed prison, to be carried out in public, in a case that fueled debate about tolerance in this multi-racial country. Since the case provoked a fierce debate and brought the attention of international media, the authorities in Malaysia overturned the ruling and had her punishment for drinking beer commuted, and instead she was required to perform community service. The controversy may have subsided but it has left a bitter aftertaste.
A CLASH OF CULTURES, 30 MEN ATTACKED YOUNG WOMEN FOR DRINKING ALCOHOL AT A PUB IN MANGALORE
In the Indian state of Karnataka, a right-wing Hindu vigilante group of nearly 30 men barged into a college-town pub and attacked several young women for drinking alcohol in 2009. The attack that was filmed and then broadcast on national television, has shocked the viewers and stoked a national outcry. The footage exposed the group chasing and beating up panicking women. Some of the women tripped and fell after being dragged by their hair, and were then kicked. The leader of the group, Pramod Muthalik has said it is not acceptable for women to go to bars in India. He argued that assault on the women was justifiable because his group is preserving Indian culture and moral values, accusing the women of having loose morals for being out drinking. The attackers were arrested, but all accused including their leader have been freed by the court in 2019 because there wasn't enough evidence. The video proof of the actual assault was not admissible in court and very few of the women who were attacked were willing to testify, fearing a backlash. The Indian Express newspaper said such attacks "further encourage a latent puritanism, the kind that is deeply threatened by modernity and dark subversions like women enjoying alcohol".
Craft beer and its misogynistic marketing
Unlike wine or other alcoholic beverages, beer is notorious for exhibiting misogyny globally. When naming and labelling beer, sexism has been the norm in the past and to some extent present, because traditionally beer targets male consumers. Sadly, some craft beers in Europe and America still embrace misogyny through their beer labels at present time – for example Vaginal Beer from Poland, Topless Blonde from USA, and Erotikbier from Germany. Even in Britain, misogynistic beer labels were a norm until 2019. Only after a vigorous campaign by CAMRA (Campaign for Real Ale), derogatory beer labels were banned. To create an equal world for all, we have to tackle patriarchy from every possible angle, and beer is one of the things that requires a new and fresh definition. So, Let's redefine beer and cultivate change.
The battle of brewing
There is overall lack of diversity in the beer industry. This problems is not only on the marketing side, but the beer industry as a whole. There has recently been an over-pouring of sexism and sexual harassment/assault stories within the craft beer business. An Instagramer (@ratmagnet) posted a series of allegations within the industry ranging from sexist comments to sexual assault. These posts have started a movement, a movement remarkably similar to #MeToo. This Instagrammer has created a safe place for women to share their stories and shine a light on a massive problem that has gone unnoticed. Although there has been an incline of women entering the industry, you will still hear and find stories of women enduring racism, harassment, assault, and bullying. At Neitiv, we intend to create a more diverse and open-minded culture with a goal of making a fair and safe space for everyone.
BEER GODDESSES
Coconut Flower Beer collections are named after the ancient goddess:
· NINKASI, the tutelary goddess in ancient Sumerian religious mythology, who would prepare beer daily to 'satisfy the desire' and 'sate the heart'.
· MENQUET, the ancient Egyptian goddess, who was responsible for brewing and was pictured as a woman holding two jars of beer.
· DEA LATIS, the Celtic goddess of beer and water, who was worshipped in Roman Britain.
ALCOHOL AND BREASTFEEDING
Alcohol is best avoided until your baby is over three months old. Nevertheless, you can enjoy your favourite tipple as an occasional treat. Alcohol is not stored in the breast but the alcohol levels reach their highest in breast milk about 30-60 minutes after drinking. If you do have an alcoholic drink, allow at least 2-3 hours for the alcohol to leave your breast milk before your next breastfeed.

I BELIEVE Empowerment, mindfulness and sustainability are interconnected to create an equal, peaceful and prosperous world! The slogan on our bottle 'Coconut Flower Beer For Women' empowers me to lead and drive Neitiv. And I am confident it will empower more women from diverse communities to join the alcohol or beer industry.
Vaani VetriKo, co-founder of Neitiv
We believe all women and menstruating people should have access to menstrual protection during their period; it should be a basic human right. Neitiv Red Dot Project is our ambitious initiative to fight period shame and period poverty. Together we empower
Keeran VetriKo, co-founder of Neitiv